Vicky-Lee McIntyre pictured in a Star Trek Yoman costume, signing her poster at the Armageddon expo.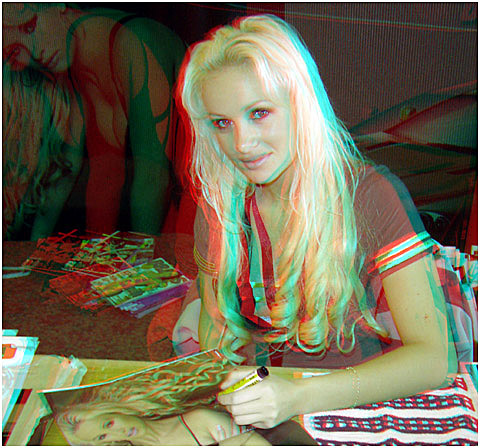 Studio 555 made (ACB) 3-D photo' souvenir prints for patrons posing with a Brass Magazine model at Armageddon.
Brass Magazine provided the 'real thing' with top New Zealand Super Model Vicky-Lee McIntyre from the Miss Popularity show who had just finished filming for TV 2's 'Treasure Island: Couples at War.'
Vicky-Lee was busy meeting the people and signing copies of Brass Magazine.
A digital stereo camera rig was used and A4 size anaglyphic 3-D inkjet photo prints were made from the patented (ACB) 3-D images produced.
Also see Brass Magazine at Big Boys Toys.