Save Our War Memorial Park Back to 'The Memorial Plaque'
Waipa Council's Memorial Policy 4.4.4
Policy Objective
Council periodically receives requests from residents and groups within the community who want to acknowledge a past family member, friend or resident through the planting of a tree, the placing of a seat or some other structure in a public place administered by Council.
A policy for responding to such requests is appropriate to ensure a consistent approach.
Policy
Council wishes to make provision for memorials, but of a type and in a way that maximises flexibility, such as readily able to be relocated, should development plans for an area change.
Council's preference is for memorials to be structures, such as seating, that provide a practical benefit to the community, and allow the attachment of a dedication plaque or similar acknowledgement.
Such structures will be consistent with the relevant reserve management plan or development plan. Approval will be subject to such conditions as may be determined by the Parks and Reserves or Road Engineer (Maintenance) Team Leaders as appropriate.
Memorial structures will normally be fully funded by the applicant. Once approved and installed, memorial structures will be maintained by Council.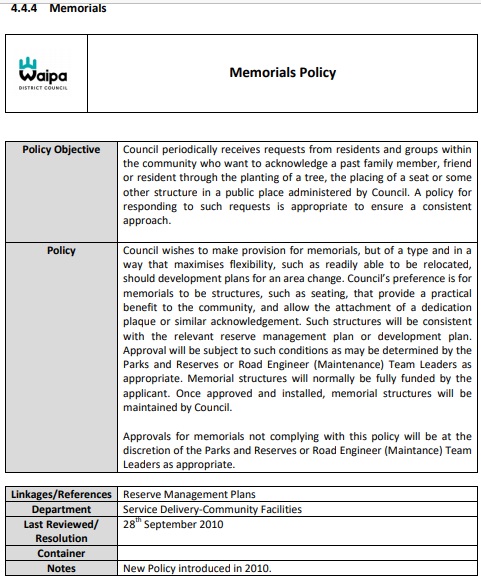 The Te Awamutu and District War Memorial Park was funded from community donations with a pound for pound government subsidy and was built majorly with voluntary efforts.
See 10 Feb' 54. Harrold Babbage prepared a maintenance report to be submitted to the Borough Council.
See 15 Feb' 54. Borough Minutes: Council received the War Memorial Committee's report for future park maintenance. To be discussed at a Council meeting of 22 March 54.
See 24 March '54. Harrold Babbage and Arthur Warburton of the Waipa District War Memorial Committee presented council with a plan of costs and tasks for the maintenance of the memorial as it was soon to be vested in council care.
"To some extent the full maintenance of the park in a well-kept state would depend on the pride and interest the citizens themselves showed."
"It was not considered that the planting of flower beds or plots came within the scope of the construction of the park, whereas trees, shrubs, and lawns, which were of a permanent nature, did."
"When the park was completed and formally vested in the council it would then become the responsibility of the council to ensure its adequate maintenance."
See 11 May '55. "Foremost...is the future maintenance of the park which is a memorial...to those who fell overseas in battle.
The Park Committee is to meet with the Borough Council Parks Committee on the site this week to discuss the matter."
See 27 May '55. A new committee for the control of future maintenance of the Memorial Park would consist of six members:
Park designer Harrold Babbage as chairman, two councilors-Freeman and Donaldson, a member of Te Awamutu's Beatification Society, and two RSA members.
"The park has been vested in the Borough" "they could not allow it to deteriorate...the park was a unique one of its type and it was essential that it should be maintained"

30 May '55. "We cannot afford to let this park slip back"
"The ratepayers will...be proud to accept the responsibility of maintaining the memorial to sacrifice in a state worthy of those men and women who gave their lives."
"now it is at a stage where it has been handed over to the borough some clear policy should be evolved to ensure sufficient finance to maintain it"
Mr Babbage...has proved that he is a master of the situation. But what will happen if, and when, he resigns from this task? Is there any guarantee that a successor will be found..?
See 21 March '56. Mr Babbage resigned as chairman of the War Memorial Maintenance Committee to continue as a committeeman with Mr A.G Freeman appointed Chairman.
At some point the maintenance committee dissolved and council continued alone. Thus with reference to Waipa Councils policy sec 4.4.4 on Memorials:
The Park does provide a practical benefit to the community, being "a memorial for both the district and the town to those who fell overseas in battle."
In mid-March 1954 council received a request from the War Memorial Park Committee, who wanted to acknowledge family members, friends and residents with a memorial park they had developed, to be acknowledged as vested into council care.
In May '55 council representatives met the Committee on site at the park to discuss future maintenance.
There was no issue of the park being inconsistent with the reserve management plan or development plan. With all things considered, in May '55 the council approved being vested with the memorial.
Council is now obliged by their own policy for memorials to maintain the war memorial, being a park that was planned, built and dedicated as a memorial.

The hiring of a development firm to Re-Concept the memorial is contrary to the founders objective for the park and also to councils own memorial policy.
Council received public feedback concerning the central footbridge (commemorating the Airforce) and the Peace Fountain in the park in June- August 2018. It was clearly about valuing and retaining such features, let alone the theme or concept of the park.
For Council to then respond in Oct' 18 by financing a Re-Concept for the memorial was in opposition to that expressed public need. Instead, a co-ordinated and staged approach to implement the destruction of the memorial has resulted.
At no point was there an opportunity to refuse such a plan. Nor was there an announcement that such a plan was afoot.
Signs erected at the footbridge since 2018 were without scope and without detail. Public are now surprised to disbelief at just what 'Concept Plan' involves.
Gone is the Entrance Arch-Ways, The Scenic Drive-Way, the Sundial, the water-way and Waterfall, the Car Park, the Rockery, the Semi-Sunken Garden, the Fernery, the curved half of the Pergola Colonade, the Peace Fountain, the play equipment, the stone footbridge, paths and stone stairs, the lake, and non-native trees.
While referring to itself as: "A concept plan to identify, protect, restore and enhance the values associated with the reserve, and to provide a co-ordinated and staged approach to implementing the plan."

We are now faced with the futile option of having to make submissions, as part of a "staged process"
where amendments just might be made prior to implementing the finalized plan for the destruction of the park.

Back to 'The Memorial Plaque'