There is a misconception that the Sunken Cross alone is the Memorial.


Indeed, most people today in Te Awamutu and district are unaware: that entire park was planned, built and dedicated as a War Memorial. Or that the original scheme was simply to have memorial gates to a park, or of the pound for pound government subsidy that the Memorial Park was found eligible for, or of the scale model of the park made to encourage donations. Or that birds and monkeys were considered as an attraction. Or that the three footbridges, between Mutu St and the netball court end, commemorate the service of the Navy, Airforce and Army.
Or know of the Peace Fountain or the Peace Roses within the Sunken Cross of Memory, or of the Taniwha in the Semi-Sunken Garden with its Mercury Bay lawn and Manaia. Or of its Historic Mural Wall that depicts the coming together of Maori and Pakeha "Ways of Life" toward "Peace and Reconciliation under One Government and One Crown"
Or of the three Memorial Archways over the Columned Pergola, that curves around the sunken cross to dignify it. Or of the paddle boats in the Ornamental Lake. Or that the Queen was approached to open the park, or that the Prime Minister did open the park before a crowd of 3,000.
Such unawareness that the entire park was planned, built and was dedicated as, a war memorial, was warned of by Arthur Warburton in his 5 Dec 55 editorial following the formal opening of the park.
"Sonorous phrases floated over the Cross of Memory, over rockery and play-ground, yesterday, to be lost forever. Will the real meaning of this monumental piece of work also be lost in similar fashion as the years heal sorrow and bring a new generation to the district?"
The entire park is a dedicated war memorial. It provides a facility that enables comfort and peace, that was fought for.
See Arthur Warburton's editorial 5.12.55"Thus it can be reasoned that those who were prepared…to protect the freedom of the people are now, even in a memorial, continuing to serve and ensure comfort and peace to those for whom they were prepared to sacrifice between 1939 and 1945."
Arthur Warburton served on the committee that established the park from inception to completion. As editor of the Te Awamutu Courier, he made land available for the park through Couriers (NZ) LTD. Rest assured, he was familiar and correct with this symbolic vision of the parks objective.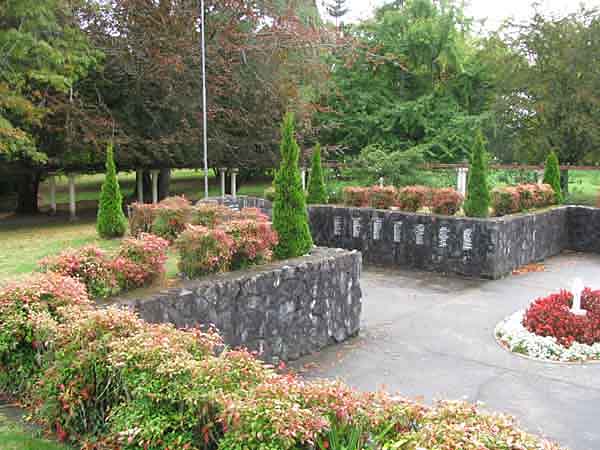 See The Sunken Cross Inscription List.